Well, that's a silence, i outplayed myself here. Enough stuff happened, but i'm alive, so... hi.
---
So, where should i start. New music? Well, can't really answer this question... or, can i? Well, because this summer was really hard for my mentality so making new music was my last thing i wanted to do (surprise, huh).
Been a while since my last solo track - "Reach For The Sky". Well, i came to conclusion that this one is my very last one, there won't be many more... with my current sound-design.
Yep, the summer came out really hard for me, but instead of trying to do more new tracks (which was meaning the complete burnout), i started updating my sound-design, that means the leads, kicks, chords that you know well, will be changed. But that doesn't mean that they will not be present, i will keep using them, but not that much.
This might take enough time, i understand. But sometimes, the changes must be done. Alongside with all of that, i started exploring other genres like drum & bass, phonk (might drop one in september, so keep an eye) and some other genres in full force, so i can possibly combine them with hardstyle. So yeah, this is gonna be the real hell of a ride (in a good way).
---
Any more stuff? Maybe about Geometry Dash? Well, i have something to tell as well, as it's 10th anniversary kicked in recently.
I'm not gonna go deep with this, but my whole journey with music, my path as a person started with this game and it's community, and i made enough of irreplaceable friends because of this game, and i can't be enough grateful for this.
I'm really excited about 2.2 update, since it will come out in October this year, so i hope Robtop won't disappoint us.
And i also can't to not mention my new highlight, which happened during anniversary: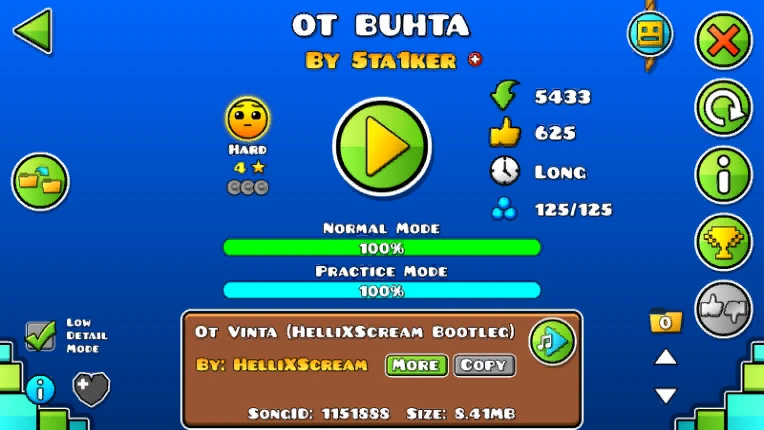 Yep, this is the first "Featured" level in the game, which contains my work, even if it's a bootleg. I speculated about this a year ago, and it actually happened. Can't be more happy with this. The level ID is 91205564, so make sure to check it out!
---
So yeah, i did another post here just to tell that i'm alive. All i can say right now - don't expect anything new from me right now! I stated my reason, why. I might upload some of phonk in the meantime. But yeah, you know the drill.
I'm still here. I didn't go anywhere and, hopefully, won't go completely.
cya.